Dental Exam
The secret to a bright, healthy smile is actually no secret at all: brush, floss and get a professional dental exam at least once every six months. Professional dental exams are all about prevention – preventing existing problems from getting worse and preventing dental problems from developing in the future. Regular dental exams make it possible to identify and treat a problem in its earliest stage – which is not only good for your oral health but also good for your budget!
There's nothing to fear with a dental exam. Your teeth will be visually examined for signs of plaque, tartar and tooth decay. Your gums will also be examined for puffiness or discoloration, which are signs of gum disease. A full set of dental X-rays may also be taken during your dental exam, to enable your dentist to see below the surfaces of your teeth. Dental exams typically end with a dental cleaning, to remove surface stains and buildup.
Digital Dental X-Ray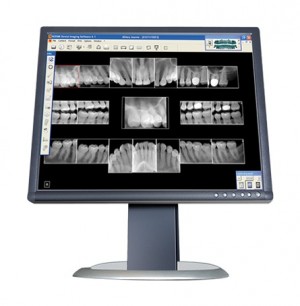 Dental X-rays have come a long way. Todays dental X-rays are safer, faster, more comfortable and more informative than the X-rays of years past. Digital X-rays, one of the latest and most advanced dental technologies, produce high-quality images of your teeth that can be viewed instantly by you and your dentist on a LCD monitor. Digital X-rays reduce radiation by up to 90% and provide exceptional diagnostic information to ensure that potential problems are caught in their earliest stages. Intraoral photography is another alternative to traditional dental X-rays. With intraoral photography, problems such as cavities, fractures and discolorations in the teeth are captured through clear and sharp photographic images that are taken with a 35mm or digital camera.
Teeth Cleaning
No matter how often you brush and floss, plaque and tartar deposits can still build up on your teeth. A professional teeth cleaning is the single most effective way to remove these deposits and prevent them from causing more serious problems in the future. While a traditional teeth cleaning involves manually scraping away these deposits with special dental tools, advances in dental technologies now give you more options for teeth cleanings.
A laser teeth cleaning, also known as an ultrasonic cleaning, is a popular alternative to traditional teeth cleanings. With a laser teeth cleaning, an ultrasonic scaler (rather than a manual probe) is used to remove deposits, kill harmful microbes and eliminate bacteria around the teeth and gums through high-frequency sound waves. Many patients find laser teeth cleanings more comfortable than traditional teeth cleanings because they are quicker, quieter and pain-free.
A deep cleaning may be recommended if excessive plaque and tartar deposits have developed below the gum line. Deep cleanings, also known as scaling and root planing, involve a two-part process: first, the stubborn deposits are removed, and then the root surfaces are smoothened. A deep cleaning helps prevent periodontal disease and restores gum tissues to a healthy state.
Oral Cancer Screening
Oral cancer affects nearly 35,000 Americans every year. The keys to surviving oral cancer are early detection and early treatment. This starts with a regular oral cancer screening – at least once every six months. An oral cancer screening takes just minutes, is pain-free and can be performed during regular dental exams. If you are male, a regular oral cancer screening is especially critical: Oral cancer is more than twice as common in men as it is in women. Other people at high risk of oral cancer include people over the age of 60, tobacco smokers and heavy drinkers.
Natural Tooth Colored Fillings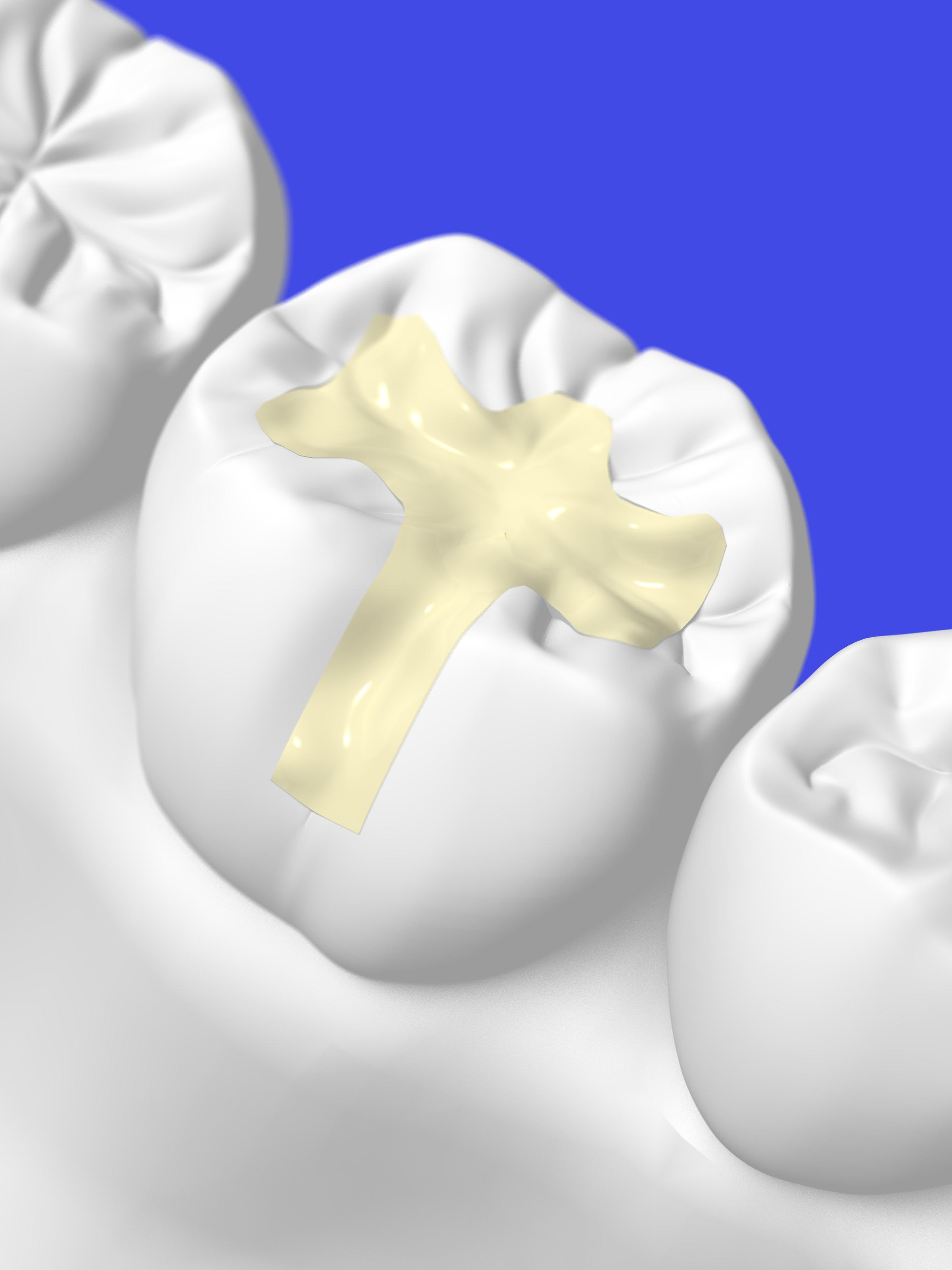 If your silver fillings make you feel self conscious when you smile, or it's simply time to replace them, consider white fillings. White fillings are just as durable as they are attractive! Made of composite resin, white fillings match the natural color of your teeth and are an excellent option for small to mid-sized cavities. White fillings are strong, stain-resistant and require less removal of your tooth structure than amalgam fillings.
Porcelain Dental Crowns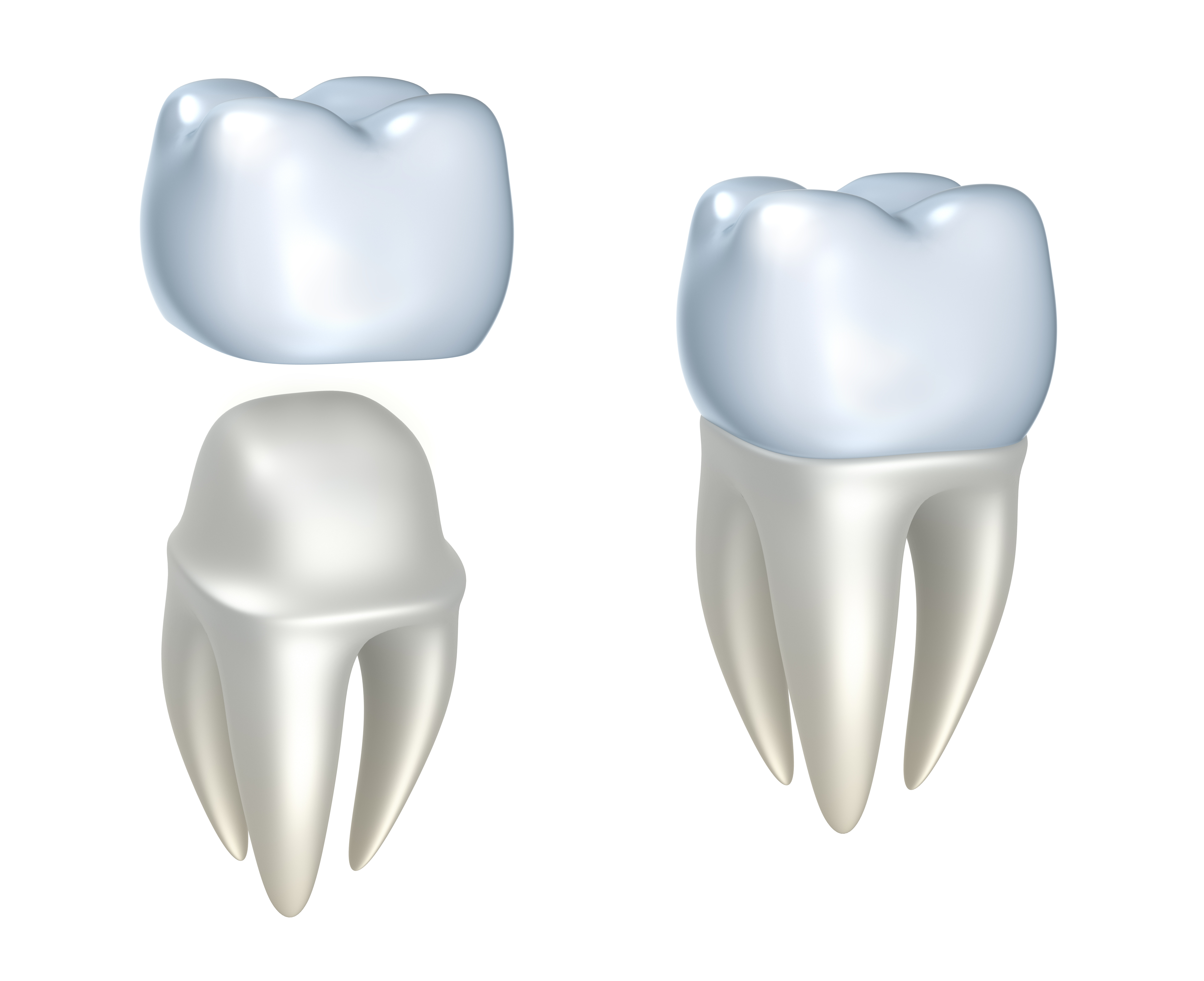 A dental crown is a tooth-shaped "cap" that is placed over a tooth. Crowns restore a tooth's shape and size, strength, and/or improve its appearance. Crowns encase the entire visible portion of a tooth – from top of tooth to the gum line.
Why is a dental crown needed?
A dental crown may be needed to*
protect a weak tooth (eg, from decay)
restore an already broken tooth or a tooth that has been severely worn down
cover and support a tooth with a large filling when there isn't a lot of tooth left
hold a dental bridge in place
cover a dental implant
cover a tooth that has been endodontically treated (had a root canal)
How is a tooth prepared to receive a crown?
Today, many dentists are able to make in office, same-day crowns. An impression (mold) is taken of the tooth needing the crown and wirelessly sent to machine located in the office. Ten to 15 minutes later the crown is ready to be cemented in place. Another advantage of this approach is that the digital impression can be sent to a lab for them to manufacture.
Labs are also offering "pressable" ceramic crowns. These crowns have a hard inner core, which replaces the metal substructure, and uses porcelain material to cap the tooth. Porcelain is a material that best matches the color of the surrounding teeth.
This approach for crowning teeth is becoming more common. The pressable ceramic crown is much more durable than the porcelain jacket crown.
If my dentist is unable to make an in-office, same-day crown, what steps are taken to prepare a tooth for a crown?
The more traditional method to prepare a tooth for a crown usually required two dentist visits.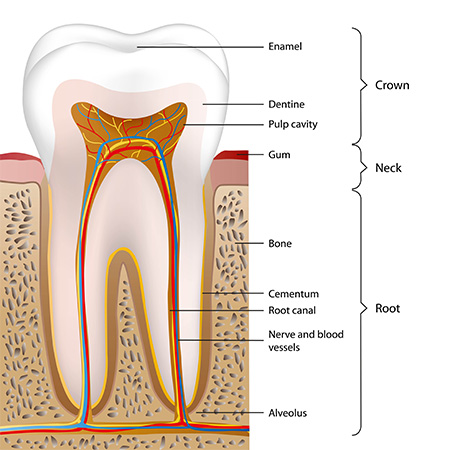 First visit: Examining and preparing the tooth
At the first visit:The tooth is examined and prepared. X-rays may be taken to check the roots of the tooth receiving the crown and the surrounding bone. If the tooth has extensive decay or if there is a risk of infection or injury to the tooth's pulp (the center 'core' of the tooth, which contains blood vessels and nerves), a root canal may be performed first.Next, your dentist will anesthetize (numb) your tooth and the gum tissue around the tooth. The tooth receiving the crown is filed down along the chewing surface and sides to make room for the crown. The amount removed depends on the type of crown used. For instance, all-metal crowns are thinner, requiring less tooth structure removal than all-porcelain or porcelain-fused-to-metal ones). If, on the other hand, a large area of the tooth is missing (due to decay or damage), filling material is used to "build up" the tooth to support the crown.After reshaping the tooth, an impression of the tooth to receive the crown is made. Impressions of the teeth above and below the tooth to receive the dental crown will also be made. This is done to make sure that the crown will not affect your bite.The impressions are sent to a dental laboratory where the crown is actually made. The crown is usually returned to your dentist's office in 2 to 3 weeks. If your crown is made of porcelain, your dentist will also select the shade that most closely matches the color of the neighboring teeth. Your dentist will make a temporary crown to cover and protect the prepared tooth while the crown is being made. Temporary crowns are usually made of acrylic and are held in place using temporary cement.
Second visit: Receiving the permanent dental crown
At your second visit, your dentist will remove your temporary crown and check the fit and color of the permanent crown. If everything is acceptable, a local anesthetic may be given to numb the tooth and the new crown is permanently cemented in place.How should I care for my temporary dental crown?Because temporary dental crowns are just that – a temporary fix until a permanent crown is ready, most dentists would recommend:Avoid sticky, chewy foods (for example, chewing gum, caramel), which have the potential of grabbing and pulling off the crown. Minimize use of the side of your mouth with the temporary crown. Shift the bulk of your chewing to the other side of your mouth. Avoid chewing hard foods (such as raw vegetables), which could dislodge or break the crown. Slide flossing material out-rather than lifting out-when cleaning your teeth. Lifting the floss out, as you normally would, might pull off the temporary crown.
What problems could develop with a dental crown?
Discomfort or sensitivity. Your newly crowned tooth may be sensitive immediately after the procedure as the anesthesia begins to wear off. If the tooth that has been crowned and still has a nerve in it, you may experience some heat and cold sensitivity. Your dentist may recommend that you brush your teeth with toothpaste designed for sensitive teeth. Pain or sensitivity that occurs when you bite down usually means that the crown is too high on the tooth. If this is the case, call your dentist. He or she can easily fix this problem.
Chipped crown. Crowns made of all porcelain can sometimes chip. If the chip is small, a composite resin can be used to repair the chip with the crown remaining in your mouth. If the chipping is extensive, the crown may need to be replaced.
Loose crown. Sometimes the cement washes out from under the crown. Not only does this allow the crown to become loose, it allows bacteria to leak in and cause decay to the tooth that remains. If your crown feels loose, contact your dentist's office.
Crown falls off. Sometimes crowns fall off. Usually this is due to an improper fit or a lack of cement. If this happens, contact your dentist's office immediately. He or she will give you specific instructions on how to care for your tooth and crown until you can be seen for an evaluation. Your dentist may be able to re-cement your crown in place; if not, a new crown will need to be made.
Allergic reaction. Because the metals used to make crowns are usually a mixture of metals, an allergic reaction to the metals or porcelain used in crowns can occur, but this is extremely rare.
Dark line on crowned tooth next to the gum line. A dark line next to the gum line of your crowned tooth is normal, particularly if you have a porcelain-fused-to-metal crown. This dark line is simply the metal of the crown showing through.
How long do dental crowns last?
On average, dental crowns last between 5 and 15 years. The life span of a crown depends on the amount of "wear and tear" the crown is exposed to, how well you follow good oral hygiene practices, and your personal mouth-related habits (you should avoid such habits as grinding or clenching your teeth, chewing ice, biting your fingernails and using your teeth to open packaging).Does a crowned tooth require any special care?While a crowned tooth does not require any special care, remember that simply because a tooth is crowned does not mean the underlying tooth is protected from decay or gum disease. Therefore, continue to follow good oral hygiene practices, including brushing your teeth at least twice a day and flossing once a day-especially around the crown area where the gum meets the tooth. I would also avoid knowingly biting on hard surfaces with porcelain crowns (like chewing ice and popcorn hulls, etc to prevent porcelain fracture)
References
Betty Haberkamp, DDS, Head and Neck Institute, Cleveland Clinic, Ohio What are crowns/? Know Your Teeth,
Academy of General Dentistry. www.knowyourteeth.com/Oral health topics
Dental materials. American Dental Association. www.ada.org/
Dental Bridges
Dental bridges have been used for centuries to replace missing teeth. Today, dental bridges are still considered one of the most durable, conservative and cost-effective options for bridging the gap between a missing tooth and surrounding teeth. Comprised of two anchoring teeth and a replacement tooth, dental bridges help prevent surrounding teeth from drifting out of position, improve chewing and speaking, and help keep your natural face shape in tact.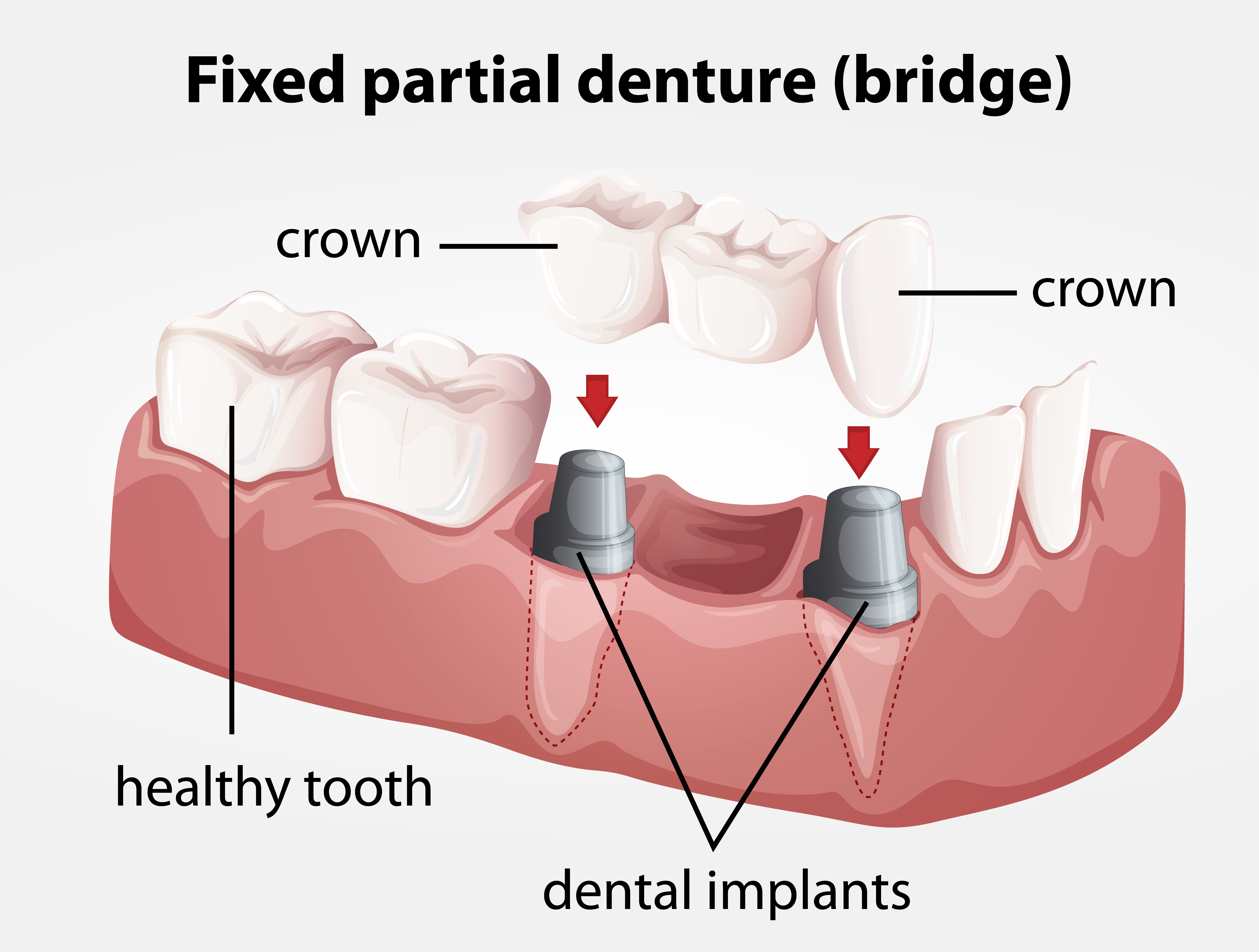 There are three types of dental bridges: 1) traditional dental bridges, 2) cantilever dental bridges, and 3) Maryland bridges. Traditional bridges have either dental crowns or dental implants on either side of the missing tooth, plus a replacement tooth, which is held in place by a post-like structure called a dental abutment. Cantilever dental bridges are used in cases where there are surrounding teeth only on one side of the missing tooth. Maryland bridges are made of a specialized resin that is cemented to a metal framework and cemented to the enamel of surrounding teeth.
Dental bridges typically take 2-3 weeks to complete and are less invasive than other options, such as dental implants. With good oral hygiene and regular dental visits, dental bridges can last up to 30 years.
Gum Disease Treatment
Red, swollen gums are a red flag for one thing: gum disease. If you have the symptoms, you're not alone. More than 80% of adults have some form of gum disease. Fortunately, there are many effective and pain-free gum disease treatments. For gingivitis, the mildest form of gum disease, treatment typically involves a thorough dental cleaning, followed by daily brushing and flossing. Advanced gum disease, also known as periodontal disease, requires scaling and root planing to remove stubborn deposits below the gum line. Laser gum surgery, a new alternative to scaling and root planing, uses beams of high-speed light to remove plaque and tartar buildup. If non-surgical methods of gum disease treatment are ineffective, a gingivectomy, or periodontal surgery, may be necessary.
Pediatric Dentistry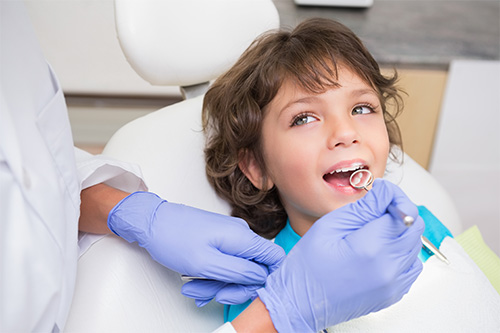 Catering to the dental needs of kids requires a special touch. Pediatric dentists are specially trained to treat the oral health needs of children, from infancy through their teenage years. This involves in-depth knowledge about children's behavior, as well as their growth and development. Pediatric dental offices are also designed to make kids feel comfortable and relaxed – with plenty of toys, activities and a warm, inviting and fun décor.